Bahrain Exhibition for Training and Education Pre Employment.
The increasing number of graduates in the Kingdom of Bahrain and the mounting requirements of the Labor market present a big challenge for Bahraini youth. Higher education and technical training are options to bridge this strategic gap occurring between public education and the current Labor market. Medpoint Design and Events Management, after similar successful events in Bahrain has come to meet the aspirations of young Bahrainis once again by organizing the third Bahrain Exhibition for Training and Education Pre Employment. This educational and training opportunity promises Bahraini youth a bright future in the Labor market through meeting with senior professors of various Universities and Colleges, both local and international. Internationally recognized Universities with various undergraduate majors, academic programs and certificates of training and professional qualifications will be invited to Bahrain Exhibition for Training and Education Pre Employment. This will allow the youth to identify training opportunities in various Companies, Institutions and take advantage by nominating themselves for different jobs, not to mention those grants and scholarships which will be presented in collaboration with the Public and Private sector organizations. This initiative comes as a result of the partnership between Local Institutions and the Private and Public sectors who play a strong role in Human Resource Development at a National level, in line with modern theories about the importance of training and career opportunities and spreading workplace values and ethics.
B-Training aims to provide Training, Education and Employment opportunities to Bahrainis, and this initiative is divided into the three categories:
The first category is Higher Education: 
The Board of Higher Education licenses Universities, Colleges and Private National and International Universities to provide Bachelor's degree, Master's and Doctoral degrees. The second category is Training: It includes Training Institutes and Centers that oer professional programs, languages and skills development in various disciplines, in addition to the training centers and departments of various government and private institutions that aim to train students.
Training departments and Employment in the Public and Private sectors:
provide opportunities in the field of training for final year University students for a period of two months and renewed period as agreed upon by the parties. On-the-job training experience in various Companies are oered to the public, which create job opportunities for job seekers.
The third category is Employment:
It includes Employment Agencies, in addition to the various Public and Private Institutions and all the companies recruiting Bahrainis, including Industrial, Commercial, Oil, Banking, Telecommunications and others.
B-Training
For more details, view our E-Booklet!
OUR VALUED CLIENTS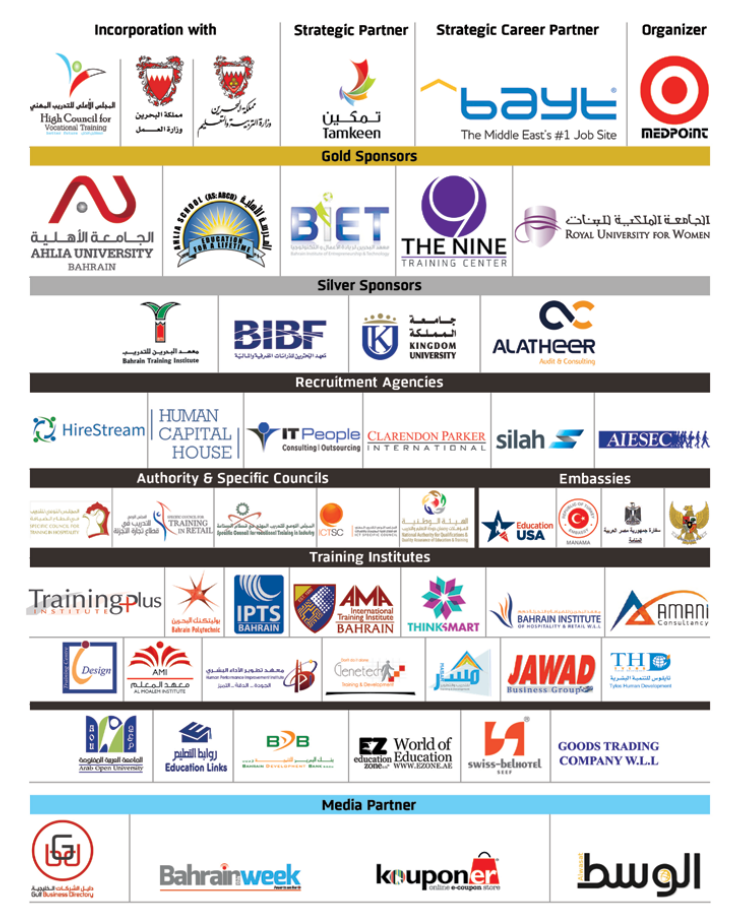 ---
Gallery